Who We Are
We are mentoring program focused on supporting students of color who are interested in the field of education.

Leadership in Diversity is an organization that aims to help maintain and encourage confidence and success in Students of Color as they pursue careers in the field of Education. This organization aims to provide its members with the necessary tools, networks and information that they will need to be competitive, well-rounded, culturally responsive educators.

​

Why We Matter

In 2014, the State Education Resource Center produced a technical report entitled "Minority Teachers in Connecticut: A Durational Shortage Area." This report highlights the issue of the low amount of teachers of color in this state in particular. It is problematic that the teacher workforce does not reflect the student population, especially in larger urban school districts such as Hartford, New Haven and Bridgeport.

The report states that "

Minority students are usually more successful in classrooms when their teachers reflect their racial or ethnic groups, but minority teachers are beneficial also to all students to help create an awareness of and appreciation for diverse populations (Sims, 2010). Among other findings, research suggests that teachers of color serve as role models for all students by giving them clear and concrete sense of what diversity in education – and society – look like."

According to Connecticut State Department of Education as of the 2010-2011 school year, the minority student population is 36.3% while only 7.9% of staff come from similar backgrounds.

​Through Leadership in Diversity, we hope to provide prospective Neag students with the support and encouragement that they need as they go through the application process for the School of Education. We also aim to support current Neag students and provide them with networking opportunities, professional development and a safe space to share their thoughts and feelings about educational issues among other things.

​By providing this supportive environment, we hope to encourage students to not only

apply to the program but we also hope to help with retention efforts of the School of Education. The organization is also developing community partnerships with local high schools in order to show students who may be interested in education that if they come to the University of Connecticut they have a support system waiting to help them succeed.
---
A peek into our beginning...

In the Fall of 2013 two Juniors, Shantel Honeyghan and Tracey Lafayette developed the original concept of Leadership in Diversity, or as they originally named it "Project L.I.D." A few factors played into their decision to start this organization. They

recognized that there was a need for support for students from underrepresented backgrounds looking into the field of education and also a place for students to share their stories and important information.
On October 16, 2013, the Daily Campus published an article celebrating the increase of diversity on campus. Despite this campus wide increase, "the Neag School of Education had the lowest percentage of minority students. Only 57 Neag undergraduates were recorded as non-white, just 21.0 percent." This new information further encouraged Shantel and Tracey to start this organization in hopes that they could not only support students who were already in the School of Education, but also so they could support students who were hoping to apply for the program. The two immediately got to work on making their vision a reality.

In the Spring of 2014, Leadership in Diversity officially became a registered Student Organization at the University of Connecticut.
---
| | |
| --- | --- |
| Fun Fact: Where did the name "LID" come from? | LID is a pun off the idea of educators closing the achievement gap, or better yet "putting a LID on it!" Through our organization we hope to educate all future educators about how to be more culturally relevant/responsive, while also increasing the amount of teachers of color in our schools! |
Powered by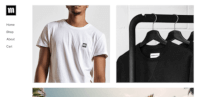 Create your own unique website with customizable templates.